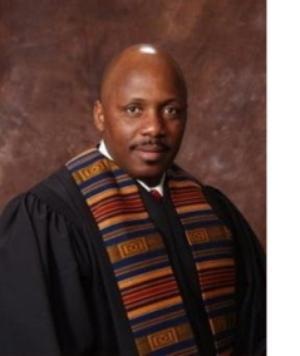 The Reverend Rock E. Sims


The Reverend Rock E. Sims is a native of Folkston Georgia. He received his public education in the Charlton County High School District. He furthered his education by enrolling in Central Texas College in Killeen Texas, where he graduated with an Associate Degree in General Studies. He continued his educational pursuit while studying at various institutions, including Wayland Baptist University in Plainville Texas and the University of Alaska. He is a graduate of Coker College in Hartsville South Carolina with a Bachelor Degree in Business Administration. Reverend Sims received his Master of Divinity from the Lutheran Theological Southern Seminary in Columbia South Carolina.

Reverend Sims accepted the call from the Lord to preach "The Good News of the Gospel". He preached his initial sermon and was licensed in October 1997, at Snow Hawk Gospel Chapel at Fort Richardson Alaska. After moving to Columbia South Carolina, Reverend Sims joined Mount Pilgrim Baptist Church and served as an associate Minister under Pastor Leon R. Dickerson. He was ordained on November 14, 2004 by the authority and order of the Gethsemane Baptist Association of Columbia South Carolina. He served as a co-minister in charge of Mt Pilgrim Baptist Church from August 2004 to February 2006. Reverend Sims was elected Pastor of Mount Pilgrim Baptist Church on January 29, 2006.

From 1977 to 2005, Reverend Sims served in the United States Army for twenty-eight (28) years and retired as a Command Sergeant Major. He is married to the former Norma J. Edwards of Folkston Georgia. He is a loving father of four children: Tunesia, a graduate of Duke University; Janir, a graduate of South Carolina State University; Lavetra, a Graduate of the University of South Carolina; and Rock jr. a graduate of the University of South Carolina.


Reverend Sims believes that along with being a Spiritual Leader comes the great joy and responsibility of winning soul for Christ, teaching, preaching God's Word and being a living example of a Christian in the church and community. His ministry and personal life are guided by this verse of scripture:

"I have been crucified with Christ; it is no longer I who live, but Christ lives in me; and the life which I now live in the flesh I live by faith in the Son of God, who loved me and gave himself for me." Galatians 2:20